Audacia Group's business model is based on acquiring and consolidating e-commerce businesses. As an investment holding company, Audacia aims to acquire, support and sustainably develop promising e-commerce companies. Behind this private equity model is Alexandre Bonvin, a bold and ambitious Swiss entrepreneur. Let us take a closer look at this unique strategy of business acquisition.
Business acquisition and e-commerce consolidation strategy
The companies acquired and managed by Audacia are specialized in offering products or services online. The buy-and-build strategy consists of acquiring, managing and growing the brands, either by making them leaders or consolidating their position in their incumbent markets. Audacia's portfolio includes KissKiss, IdealVoyance, La Ferme du CBD, SweetPlaid and Stickerkid.
But who's behind it? Alexandre Bonvin, founder and CEO of Audacia, is a private equity specialist who fell in love with e-commerce and now is well established in the sector. Always interested in the entrepreneurial lifestyle, he had the opportunity to acquire his first brand, KissKiss, through an LBO in 2018. After this first acquisition, he saw that a lot of synergies could be created between the brands and that he could achieve some economies of scale by consolidating businesses in the e-commerce sector. For example, spreading the fixed costs (marketing, dev, HR, finance, etc.) across several companies is indeed a real advantage. 
"Our goal is to acquire, manage and sustainably grow the companies we acquire. The process of integrating them into the Group is complex, but we now have a plug-and-play system that allows us to streamline all the processes, from business acquisition to integration and growth", explains Alexandre Bonvin. Audacia is a pure e-commerce player, both in terms of products and services. Unlike other private equity funds, Audacia owns 100% of the shares of the companies it invests in and thus has full control over them.
Business acquisition: what are the criteria?
What are the most important criteria for Alexandre and Audacia Group when it comes to acquiring a company? The most important aspects are related to the company and the market, but also to the people running the company: 
– A company based in Switzerland or Europe
– Operating in a niche industry (either a niche product or service, in the same or different industry as other acquired companies)
– Active in a fragmented market
– With healthy profit margins
– An industry with potential where there is long-term demand, and repeat business
– An opportunity to work on and grow your own brand, a company with a good brand name that is already well established in a market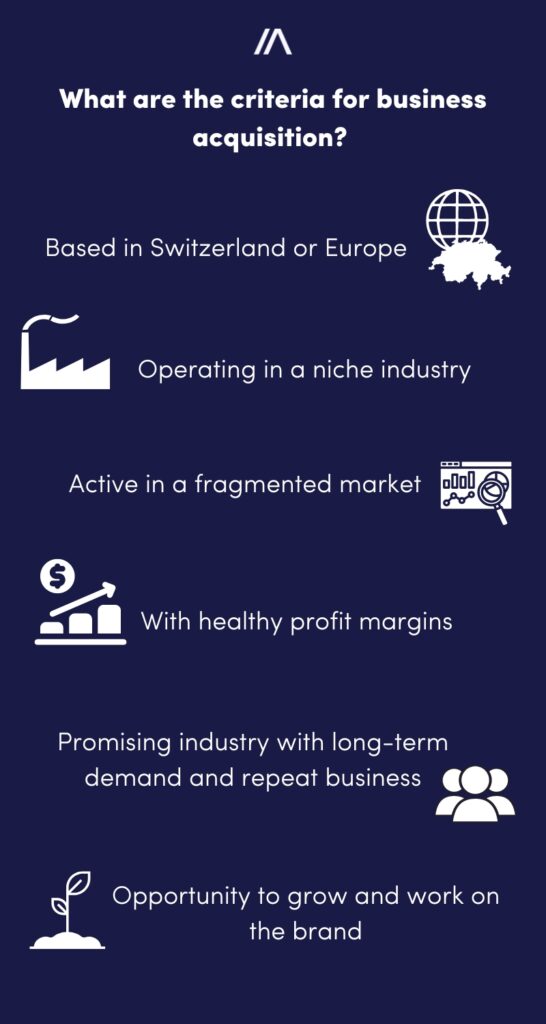 Business acquisition: what are the key steps?
There are several steps involved in acquiring a company: from finding the right jewel, to negotiating and closing the deal, including the market research. Here are the main stages of a business acquisition at Audacia:
– Conduct a search to find a target business. In some cases, proposals will arrive on their own as founders/directors want to sell their business
– Perform a macro analysis by reviewing the market, its current status and its growth potential
– Approach the seller and conduct due-diligence on the company's current condition, consisting management presentations
– Conduct negotiations utilizing the completed due-diligence, including the integration of DD findings in the transaction documents
– Signing and closing the deal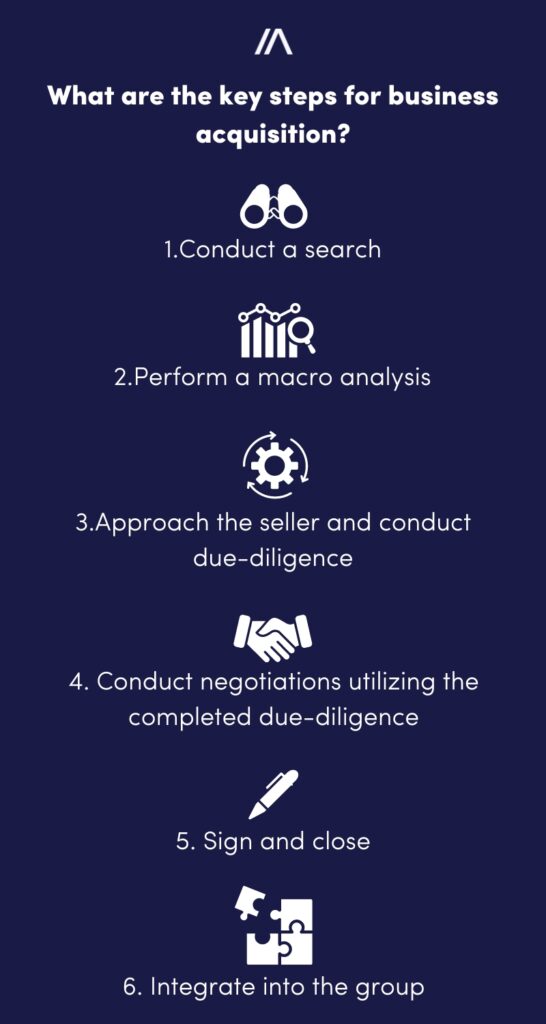 At this point, all the real work begins with the integration phase. Although it's about change management, Audacia's teams try not to change all the internal processes of a company in order to ensure a smooth integration into the group. The goal is to preserve the good practices and skills while integrating the company into Audacia's existing structure. When you buy a company, you also buy skills that you have to maintain. At the end of the day, the CEO/director of any acquired company should no longer have to take into account administrative tasks such as HR and accounting, but should focus on business development with revenue growth and cost reduction instead.
E-commerce business for sale? Audacia is here!
Are you a CEO or director looking to sell your e-commerce business? Audacia is here for you. If you think your business fits Audacia's acquisition criteria, don't hesitate to contact us!
Audacia Group is a Swiss aggregator of e-commerce businesses, a private equity business with a long-term vision. Our permanent objective is to buy, build and hold in order to make Audacia one of the references in the Swiss e-commerce industry. Joining Audacia Group will allow your company to benefit from a large pool of skills, to reach its true potential and to establish itself as a market leader.
---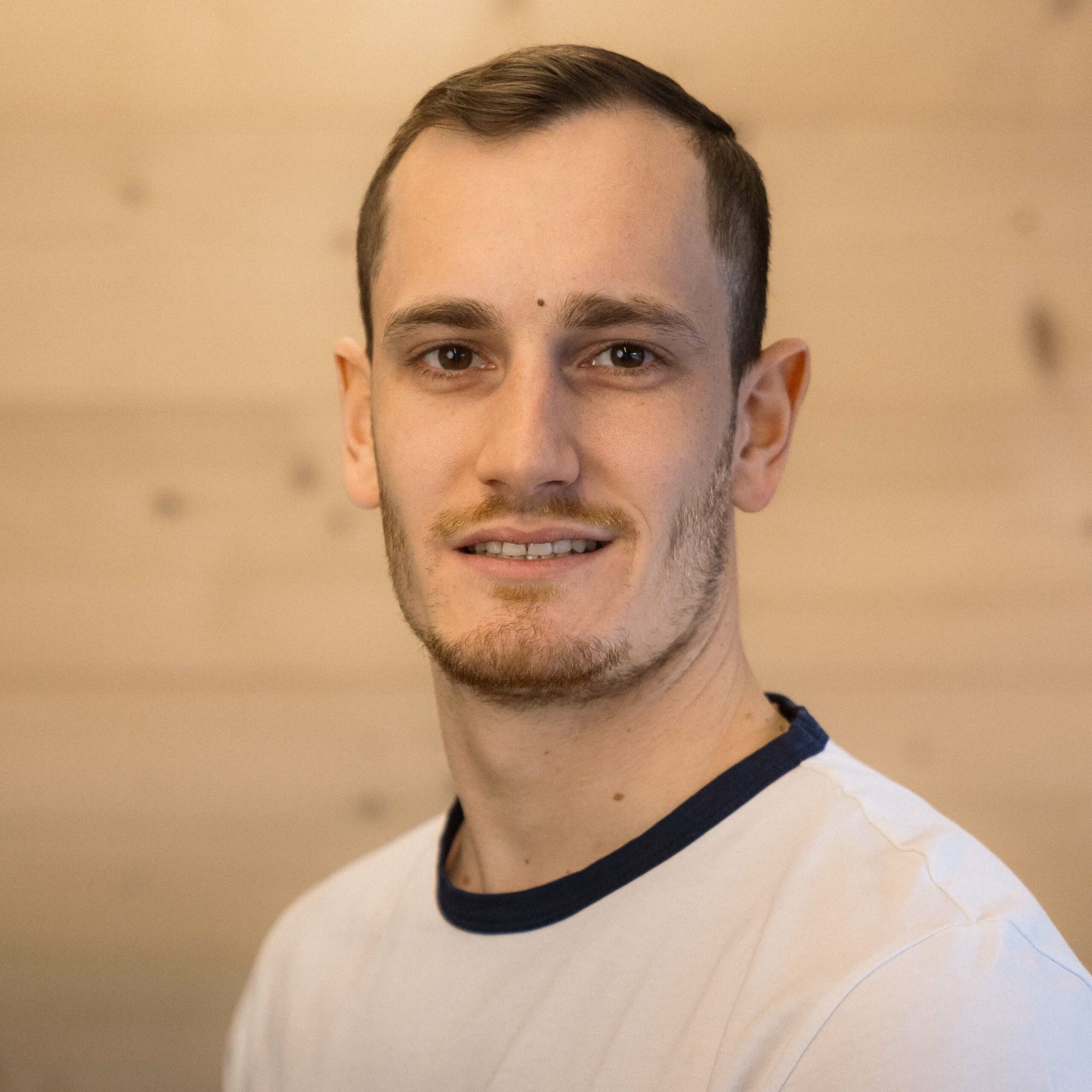 Content & Communication Manager at Audacia Group
With a Bachelor and Master degrees in Linguistics and Communication in the pocket, Adrien had the opportunity to work as a redactor, freelance journalist and web journalist. He's now working as a Content & Communication Manager at Audacia Group where he writes content and manages communication for both Group and companies acquired.
---