I recently had the opportunity to visit Audacia Group's offices in Valais. Here, I would inaugurate their new podcast room, by conducting an interview with Audacia's founder and CEO, Alexandre Bonvin.
"You can't wing it as an entrepreneur".
Since one of the key topics on our podcast Entrappreneur is the difference between having an entrepreneurial mindset and actually working as an entrepreneur, Alexandre shared several of his insights on this subject. Firstly, it's vital to recognize that entrepreneurship relates to a very specific lifestyle (involving risks, higher workloads, opportunity cost etc.), instead of merely focusing on the attractive image entrepreneurship has in our society. This is why it's not only wise to question the origin of your entrepreneurial vision, but also making sure that you have the necessary back-up in place, before taking the plunge. Secondly, there is a whole spectrum of entrepreneurship, based on several entrepreneurial archetypes. From startups looking to grow, to acquiring an already established SME, Alexandre highlights the wide disparity in skills needed between creating and acquiring businesses. Embodying these different roles himself, he points out the importance of getting to know your own entrepreneurial profile, or even inventing one yourself, as he has done.
Alexandre used the knowledge and experience he had gained from business school and created his own business model – and even his own title – which he called "Magic Partner", in reference to the traditional "Managing Partner" typically found at the head of investment funds.
His whimsical title, however, does not detract from how seriously he takes his analysis when it comes to acquiring a new company to be integrated to the infrastructure of his holding company, active in both Swiss and international e-commerce. Although his curiosity drives him to look at all investment opportunities that come his way, Alexandre has developed a systematic approach, in order for him to best evaluate their potential. First, he analyses the relevance of the project in the context of the "Mega Trends" he has identified as being the underlying trends for the next twenty years to come. In addition to long-term relevance, he also uses his financial "glasses" to quantify the potential of each opportunity. But, in the end, the decisive factor remains the human element. The alignment of the seller's and buyer's visions and the "feeling" he gets, are all essential components in order for him to assess whether the transition process will have a favorable outcome.
In the context of low returns on capital, the last decade has seen the rise of alternative investments, particularly in private equity. In this industry, which is often criticized for its predatory approach, Audacia stands out not only because of Alexandre's determination to create real and lasting value, but also because of his desire to pave the way for the democratization of this type of investment. Being the first SME in the world to have fully tokenized its shares, Audacia Group imagines a future in which any private company could exchange its shares via blockchain technology. Thanks to the pioneering Swiss regulation and the support of Geneva-based Taurus, Audacia's shares are now ready to be traded (only by accredited investors for the moment). However, Alexandre is not willing to sell his shares en masse since he knows the potential of his company, even if he is aware that its realization will depend on its internationalization. Despite its many advantages, the small Swiss market, divided into four languages, still lacks the right amount of scale and talent.
On the topic of talent, Audacia Group's doors are always open to curious and entrepreneurial profiles. Alexandre attaches little importance to diplomas as he is first and foremost looking for the right frame of mindset and, of course, a touch of boldness…
You can find the audio version here.
---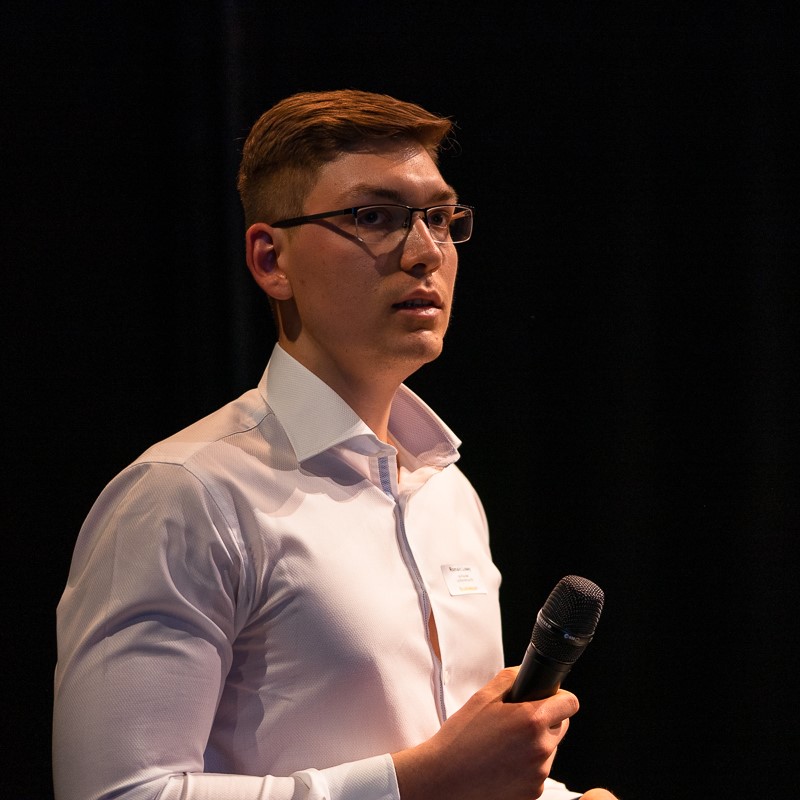 In parallel to my Business studies at the University of Saint-Gallen (HSG), I am pursuing multiple entrepreneurial endeavors:
– La Bouche qui Rit SA, a family project in which I have the mission of revolutionizing the traditional butcher shop.
– Entrappreneur, a Podcast on a quest to gather the "principles" of entrepreneurial success and high-performance.
– I also help businesses in traditional industries to make themselves remarkable in the current digital, and more specifically "phy-gital" ecosystem.
---