Listen to the related podcast on the B.O.L.D channel by Audacia.
We often get asked for advice on transforming a physical shop into an online business. This undertaking, which can seem completely overwhelming at first, is much more achievable when you have someone to help guide you through it. We will therefore share the ten steps you should follow, to turn your shop into an ecommerce store.
1- The back office (back-end)
The first step is to choose the management system you want to use for your ecommerce store. There are many different solutions available to choose from and you can easily get caught up in this selection process, as it's an important decision for the future of your business. PrestaShop, Magento, Shopify – all these solutions come with their own advantages and weak points. To save you time, let's cut right to the chase: none of them are perfect.
This exercise will require you to invest some time in researching which solution suits you best, which should form the basis for your choice. In the end, each business owner has to find the solution that matches his or her business and customers.
If we assume that you're new to this, I would immediately recommend the Shopify platform. This solution is easy to set up, powerful and takes into account the latest ecommerce standards. Moreover, it is easy to start using right away.
2- The website (front-end)
Now that you have chosen your back-office, you will also need to invest in a front-end. This is the interface that your customers browse to select and purchase products from your shop. Again, you will have a huge amount of different options to choose from. To keep things simple, you could use Shopify for this as well, as it also offers a front-end, which includes both free and paid templates. I would, however, advise you to switch to a more original design as soon as you see an increase in your sales. Ideally, you would hire a UI/UX designer. Sites like Fiverr will give you the opportunity to find talented designers, who can help design your ecommerce store. I would suggest that you keep it simple and efficient, to provide your customers with the best user experience possible.
3- The management system
This is an important detail that is too often overlooked when managing a physical shop. However, having a POS (point of sales) management system is absolutely essential to help you manage your inventory, your sales and your statistics. It is even more essential to have this kind of system implemented since it can be directly connected to your ecommerce shop. Among the different systems, I would recommend Ikentoo which is now called Lightspeed. Once again, make sure that you choose a system that suits your needs.
4- Logistics
This point relates directly to the above, as owning an ecommerce shop must equal impeccable organisation of your inventory and stock. The advantage, assuming that you already have a physical shop, is that you can use the same stock. However, it is advisable to make some changes, in order to adapt your stock to suit the ecommerce audience. It is completely up to you to decide how much you will automate your logistics. Assuming you are just starting out, you will be doing a lot of things yourself.
5- Marketing
By far the most important point that will make or break your business. Many shop owners think that setting up an ecommerce site is enough to start generating business. Unfortunately, it's not that simple. You can have a physical shop that works very well and an ecommerce shop that does not sell anything. You would likely benefit from the reputation of your brand that you have already built through your physical shop, however, you must not forget that your shop customers may not be the same as your online customers. In fact, the average basket content, age, gender, location and type of product can change from one sales platform to another. So, you can follow a similar marketing path for both your physical and online shops, but also have a distinct strategy defined for each platform. Even if some triggers are found in both ways of selling, many codes remain different. If you don't have a lot of time, don't hesitate to ask for help from an agency such as Suisseo, who we are working with.
6- The product range
It is important to understand that the number of products is not necessarily a key factor for the success of an ecommerce. In fact, some "single-product" sites work even better than sites offering a huge range of products. Also keep in mind that you will have to ship these products. The principle of an ecommerce site is almost the same as that of a shop: you can choose various products, for example snowboards, boots, gloves and goggles, but you also choose between different ranges within each product (four different brands in snowboards, ten in boots etc.). The way you display your products will also be essential on your site. It's up to you to choose which strategy you will adopt. If you're just starting out in ecommerce, I'll advise you to begin by only offering your physical shop's best-sellers. This will make the startup phase much easier for you. Remember that your website is the equivalent of your shop window.
7- Shipping
Closely related to logistics, shipping will directly impact customer satisfaction and can both bring you new customers, as well as lose them. Fast delivery with tracking has become the norm in ecommerce. Some sites are taking this concept a step further by offering free delivery with a certain minimum spend. You will need to establish a partnership agreement with a delivery service such as UPS. As you're just starting out in ecommerce, you will not be able to benefit from extremely low prices at first, because of your relatively low number of shipments. So, you will have to take this "disadvantage" into account compared to some other big sites.
8- Prices
You have already got fixed price points in your physical shop, which you can use as a point of reference for your ecommerce site. However, remember to also account for additional costs, such as delivery. You can either absorb these costs in your selling price, or choose to set them aside when ordering. While you are creating your ecommerce site, you will likely come up against new competitors. Some of these will have very aggressive pricing strategies, which can be hard to compete with. It then becomes part of your job to find the right persuasive selling arguments to make people buy from your site, rather than from your competitors.
Having a physical shop can be an advantage. Remember that selling online does not provide customers with the same kind of service as they would get in a regular shop. Just like a restaurant that delivers food, you need to think about the fact that you are not going to offer "table service" when setting your prices.
9- Upselling
This legendary sales tool can also be wielded in your ecommerce store. If your main goal is for all customers to leave your physical shop with the largest order value possible, you can replicate this on your ecommerce store, by maximizing the value of the average customer basket. Various tools exist to help you with this, but the easiest one to implement is setting up a newsletter and a mailing list. Using this process, you will also see added benefits like retrieving "abandoned baskets" as well as building customer loyalty. One of the simplest tools for sending out newsletters is Mailchimp.
10- What happens next?
Once these nine points have been established, your ecommerce store is up and running and your first orders have been sent – so what happens next? This is an important question, since you still have your physical shop to run as well.
I'm convinced that it's possible to create an optimised shopping environment between your physical shop and your ecommerce store. You can love or hate convenience shopping, but your customers will always have the last say. It's up to you to adapt your business and your offer accordingly. It's clear that ecommerce sites are growing fast, however, some products are difficult to sell without giving advice face to face, like specific items for hobbyists. To me, no ecommerce site can compete with the pleasure I get from going to my favourite fishing shop to discuss the best spots and the latest products with the sales staff.
On the other hand, time being precious, I will also be the first to admit that I enjoy buying a film, a video game or headphones from the comfort of my own home. You should take all this into account in order to make your physical shop and your ecommerce store cohabit, so that both your customers and yourself are satisfied with the experience.
---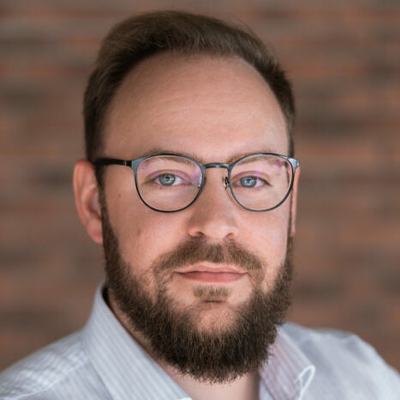 Vice-president at Audacia Group
François Bonvin's career has always been rich in experiences: as an entrepreneur developing the core software for Base7booking, as a mentor at the GENILEM Association and as Director of both Stickerkid and Stickeryeti brands. Thanks to his many achievements, coupled with his excellent interpersonal skills, he was vice-president of Audacia Group.
---