Did you know that the digital industry consumes 10% of the world's electricity and is responsible for 4% of the world's greenhouse gas emissions – the equivalent of global air traffic? By 2025, if nothing changes, these numbers are expected to double, or perhaps even triple. This exponential growth is worrying.
Contrary to what we tend to believe, digital technology does not make the economy more environmentally friendly. The direct and indirect environmental impacts on production and use of digital equipment are often underestimated. The amount of data we produce, store and exchange by utilizing digital tools – which are becoming more common than ever – cause our energy consumption to skyrocket, which dramatically increases our environmental footprint. Our planet's resources are limited and won't be able to support unlimited consumption, but currently we're engaging in an unsustainable digital over-consumption.
How can we continue to enjoy the benefits of digital services while at the same time making sure we preserve the planet? How can we make our digital consumption and behaviors fall in line with relevant climate incentives and not go beyond the constraints of natural- and energy resources? Plenty of initiatives are being launched in Switzerland and internationally to raise awareness of these issues and to propose good practices for digital sobriety.
The Institute for Responsible Digital Technology is one of these initiatives. It was created in 2018 in Switzerland, and works on the three key areas of digital responsibility: reducing the (economic, social and environmental) footprint of digital technology, reducing the (economic, social and environmental) footprint of humanity, and creating sustainable value and responsible innovation through digital technology to achieve e-inclusion for everyone. The institute offers open access measurement tools, such as the WeNR, which can be used to quantify the footprint of an organizations' information systems. Swiss Triple Impact is a unique European program, initiated by B Lab Switzerland, which helps companies measure and improve their contributions towards the sustainable development goals on the UN's 2030 agenda. Green IT Switzerland, Impact Hub, The Shifters Switzerland, Sustainable Leaders Initiative, Swiss Data Efficiency Association, Circular Economy Switzerland are other examples of interdisciplinary cooperation that underline the urgent need to embrace and implement digital responsibility values. All business sectors and organizational types are included and must act.
To that end, we're redefining the definition of success in relation to businesses and economics. Companies must now also think of their organization in terms of its impact on social issues and the increasingly worrying climate emergency, and not just in terms of financial viability. Tools and good practices are already widely available, in order to enable each company to take responsibility for their own actions, by adopting a responsible digital approach. Taking back control of their usage and behaviors, adopting "IT eco-gestures", for example buying the least powerful equipment possible, replacing it as little as possible, reducing unnecessary energy consumption, integrating an environmental consideration into all its purchases, uses and digital projects.
Choosing to be digitally responsible now will help companies anticipate inevitable future regulation. This will ensure their continued success and resilience, but also have a positive influence on society as a whole. Companies can truly influence consumer behaviors and digital usage by investing in a model where a responsible digital approach is ingrained in their products and services, through their ability to innovate and drive the entire value chain, as well as rethinking production and consumption models. When we take into consideration the other harmful impacts of digital overconsumption (social, psycho-social, political, economic and cultural), the changes we need to adopt to conform to more responsible digital technology become even more pressing.
Sandrine Barrucand, Communication & Event Manager
---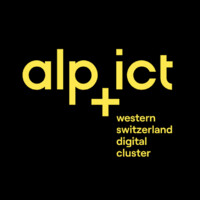 Founded in 2008 and supported by the Swiss Confederation and the French-speaking cantons, alp ict is a platform which promotes information and digital technologies. They aim to connect together Swiss SMEs around digital technologies in order to drive innovation and economic development within the companies.
---