At Audacia, we place great emphasis on natural productivity and we're committed to help ensure the well-being of our employees at work. This is why it felt like a logical choice for our CEO, Alexandre Bonvin, to set up an organisational structure that is different from the more traditional structure you'll find at other companies.
We believe that you won't inspire productivity just by installing football tables in your offices. It's a start, but it's much more important to offer a dynamic work structure, which will act as a real foundation for an inspiring work environment. The so-called "silo system" is therefore not something we have chosen to implement. So, what makes Audacia Group different?
All in the same boat
Audacia is a group, as opposed to a lone company, and that had nothing to do with chance. Alexandre Bonvin's vision has always been to create a centre of competences that brings together different types of talent, to form a group of people who are all willing to collaborate on a daily basis, and share their know-how and support between the various entities of the group. To give a concrete example, our marketing team is made up of about ten people who aren't assigned to any particular entity. In other words, any one of our designers will work on a variety of exciting projects across all of our different e-commerce companies, and will split their time between all of them. This also means that our designers will be able to participate in projects that are indirectly related to design, which allows them to expand on their skill sets and continue to learn and grow as professionals.
No more departments
Once we brought all these talented people together to form a group, we had to organise ourselves. To be honest, we started out with a more or less traditional departmental structure. This system showed us that, for the employee, being confined to a specific role leaves little room for flexibility and curbs motivation. For this reason, we switched to a team-based organisation. Each team has a project, their own objectives and a project manager, which helps everyone break free from the daily routine and stimulates creativity. When we operate like this, it means that every CEO participates in projects and tasks that are outside of his main role as well. Overall his responsibility is running the company, but he will also be involved in side projects such as automating our logistics or launching a new venture project.
A motivating work environment
Motivation at work is essential in order to ensure that every employee actively participates in implementation projects, and that everyone works together to ensure the smooth running of our core business activities. We want all of our employees to work in a motivating, healthy and stimulating environment. To achieve this, everything has to be implemented naturally and with sincerity. There's no point having flexible working arrangements if your daily objectives require you to work 12 hours a day on the same tasks. Be careful not to fall into hypocrisy.
Management close to the collaborators
Many companies claim to have a flat organisational structure, but does that really mean that there truly is no hierarchy, not even internally? There's no point in having everyone operate on the same level if, in the canteen, the managers are all eating together and not mixing with everyone else. At Audacia, we do everything possible to ensure that everyone feels respected and valued. All the human links in our chain are equally important and we all have to communicate with each other to create a perfect symbiosis. As an example, we think it's vital to have recurring events organised within the Group, so we can strengthen and maintain ties between collaborators and colleagues. Whether the events are sporting or festive, they're a great opportunity to de-stress, connect with others and generate new ideas.
From experience, many companies will talk about the benefits of having a free and new management style, but few have reached a point where every employee actively takes part in the makeup of such an environment and feels like they're part of the bigger picture. For Audacia Group, the most important thing is to build this environment naturally, out of desire and not out of obligation. Every employee should feel inspired and sincerely want to to collaborate with the other members of the group, and for this to happen, a system of trust has to be established first. This is something that will take time and require constant readjustment. It's one thing to say you want a new management style, but it's quite another to actually implement it.
---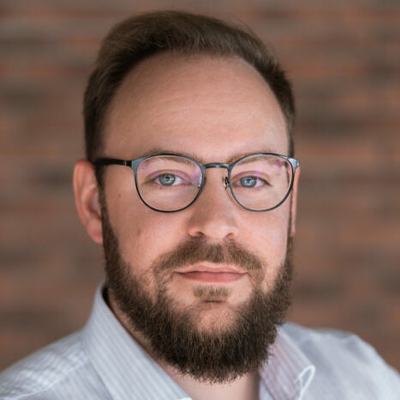 Vice-president at Audacia Group
François Bonvin's career has always been rich in experiences: as an entrepreneur developing the core software for Base7booking, as a mentor at the GENILEM Association and as Director of both Stickerkid and Stickeryeti brands. Thanks to his many achievements, coupled with his excellent interpersonal skills, he was vice-president of Audacia Group.
---