La Grappe is an online platform with a subscription system that lets you discover wines and winemakers from Valais. This platform was launched in June 2020 by two good friends, Christopher Loye and Fabian Vuignier. What was their goal? To take part in the digitization process of the wine sector in Valais, which proved to be an entrepreneurial adventure combining both innovation, local promotion and the ever present challenge of reconciling the physical and digital business worlds.
A project driven by a thirst for entrepreneurship
The first seeds of La Grappe were planted on the benches of HEC in Lausanne. At that time, Christopher was at the forefront of the Wine Society (an association that brings together wine lovers on the campus of the University of Lausanne), as he'd always promised himself that he would one day work in the wine industry. The passion for wine was sparked a bit later in Fabian's case. For him, the driving force is his entrepreneurial spirit which pushes him to initiate a project and then make it his profession. The partnership between Christopher and Fabian is built around their shared passion for wine and their desire to be entrepreneurial. After spending many hours discussing start-up ideas during their bachelor's and master's degrees, the two friends parted ways without having agreed on any real projects.
After finishing their studies, they both joined large companies in the Geneva area, but there was a much clearer path destined for them. Despite the comfort offered by secure jobs at large corporations, they felt out of place. During their free time, they were able to expand their knowledge and develop their wine tasting talents. For their efforts, they were awarded the grade "Swiss Wine Consultants" by the Swiss Wine Board. It was over a good bottle of Valaisan wine the two friends met again and exchanged their entrepreneurship ideas in their native region. While discussing options and emptying bottles, they came up with a promising project that was close to both of their hearts: promoting wines and showcasing the small winegrowers and winemakers of the Valais. After researching similar concepts in America and in neighboring countries, they decided to turn to a subscription-based box system, which is an ideal model for continuously discovering new wine gems.
A business model with two focal points: consumers and producers
La Grappe's mission is to meet consumer needs as well as the needs of wine producers. On the consumer side, the two partners quickly realized that the world of wine was sometimes difficult to navigate for a younger or less knowledgeable audience. Furthermore, even for the more experienced wine enthusiast, there are often insufficient explanations printed on the bottle labels. As a solution to these issues, the co-founders created tasting sheets to make the wine industry more accessible for everyone, while at the same time making it more fun, and also ensuring that very accurate information about the wines and the winemakers.
On the winemaker side, it's a difficult job that requires knowledge about agriculture and enology but also business management and sales. With the rise and constant development of digitalization and social networks, it's sometimes difficult for these producers to keep up with current communication preferences and digital trends. This is why La Grappe wants to provide a platform and a new sales channel for the winemakers.
A product and an experience in one!
What do people like most about La Grappe's business model? Definitely the easy and funny way you can use their service to discover new wine gems. Once you're a subscriber, you'll receive two new wines from two different wineries monthly, directly to your door. This experience allows people to really discover the diversity of local wines and the work of the regional winemakers. All this comes with a non-binding subscription: the box composition can be modified to your taste and the subscription can be paused or stopped at any time.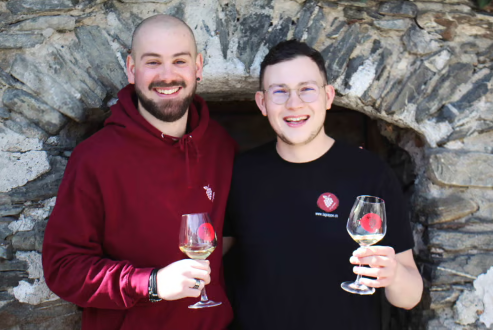 Fabian & Christopher. @LaGrappe
Giving wine as a gift has been a much-loved custom for hundreds of years. With La Grappe, the two entrepreneurs give people the option of gifting wine to others with an accompanying experience. All you have to do is choose the package plan, the delivery duration (1, 3, 6 or 12 months), write a personalized note and that's it. Offering a wine subscription is a simple but unique gift where the customer can be sure they won't make any unintentional wine selection mistakes while ensuring the recipient receives a wine discovery experience.
An essential digital presence
Why turn towards e-commerce? For Christopher and Fabian, the future is online, without neglecting the human touch. With La Grappe, their goal is to facilitate discovery of wines from Valais through an easy-to-access platform, while subscribers are also encouraged to physically visit the wineries they have discovered through the process. In today's world, offering a digital solution to wine sales seems essential and you should always have an online presence in this sector. For the new generation, it's second nature to perform a quick Google search before buying a product or booking an activity. No one can afford to ignore this part of the purchasing process.
The digital dimension is of course a focal point in La Grappe's business model. The platform allows the co-founders to manage a subscription-based system with monthly direct debit payments, customer management, subscription management, etc. The website also works as a business card for customers and future partners to refer back to, when they want to learn more about the company. However, real contact with partners and customers remains important and shouldn't be forgotten in favor of a purely online relationship. In addition to combining a product offering with an online service, La Grappe is keen to maintain real human contact with their stakeholders while fully exploiting online communication channels. 
Conquering Switzerland: word of mouth, social media and events
How do you attract new customers? Which acquisition channels are most beneficial? Word of mouth is always very important to a business. Since wine is a product that's often shared, many new customers have discovered La Grappe when visiting friends' houses where they've been introduced to a good bottle. In addition, with the gift option, subscribers introduce the concept to their friends and family. The remaining part of customer acquisitions is mainly done online by utilizing social media and also at live events. 
Back when La Grappe was founded, the core audience was made up by the famous 3Fs: the circle of friends and families, who believed in the concept. The platform was subsequently formed around the Valais market. Over time, this initial trend was reversed with more and more customers coming from outside the canton. Today, although the majority of clients are based in Valais (60%), part of the clientele is located in French-speaking Switzerland. The development of the German-speaking Swiss market is an objective for the future.
The main goal of La Grappe is to make Swiss consumers enjoy more wine from Valais. Through the platform, Christopher and Fabian also want to reinforce local consumption and for customers to discover small producers from every corner of Valais. About 400 customers currently receive the monthly boxes. They want to increase this number to 1000 within the next 2 years. For this to happen, they'll have to develop and build on the market outside of Valais, in particular the Swiss German market.
---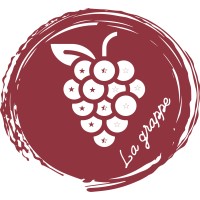 La Grappe is an online platform with a subscription system that lets you discover wines and winemakers from Valais. This platform was launched in June 2020 by two good friends and wants to take part in the digitization process of the wine sector in Valais.
---