For me it's essential to have different sources of motivation that are external to my daily life, in order to feel fulfilled professionally. Whether you're an employee, an entrepreneur or a business owner, everybody should have a role model they look to for guidance and inspiration. Ideally, company leaders should take it upon themselves to act and lead as role models, but unfortunately, many just don't make any efforts to inspire others – or they purely do it for public acclaim.
We live in a time where it's essential to have positive people who lead by example to look up to and feel inspired by, especially for the next generation. So here, I'll share with you my five inspirational business personalities for 2021.
1 – Major Michelle Curran
At just 33 years old, she's one of only a few female pilots in The United States Air Force, also known as Thunderbirds. Not only is she the same age as me, but she's doing the job I always dreamed of when I was a child: fighter pilot. Additionally, she's one of only a handful of people who can perform specific types of maneuvers. Her career is exemplary in every sense.
Why is she a business inspiration?
To do a job at such a high level, you'll have to be at your top game both intellectually and physically. I've always been impressed by people who are able to maintain control of a plane that can reach the speed of sound, and still perform maneuvers. This, I think, is quite a good metaphor for business in general. Everything moves very quickly, you'll do a lot of loops and, in the end, the further you push yourself the more you'll master what you're doing. I particularly recommend this video in which Michelle Curran meets a 7 year old girl who wants to do the same job as her.
I also think Fanny Chollet deserves special mention here, being the first Swiss woman to fly an F/A-18.
2 – Jocko Willink
Let's stay in the military field with this former Navy SEAL who, since his retirement, has been writing books, recorded podcasts and filmed motivational videos. He talks about "self-control" in the context of goal setting: once you've set a goal for yourself, you must do everything you can to achieve it.
Why is he a business inspiration?
I remember first discovering Jacko Willink through an interview he gave about going through Navy SEAL team training. Here, he explains how complete strangers eventually turn into an amazingly tight-knit group of people, to the point where they would sacrifice their lives for each other. To me that underlines the importance of team spirit, and emphasizes a leader's responsibilities within any company.
I find Jacko Willink inspirational due to his dedication to ownership in everything he does, and for his qualities as an instructor, which are absolutely essential in the entrepreneurial world.
3 – Lisa Su
Lisa Su is the current CEO and President of AMD (Advanced Micro Devices). She's also one of the highest paid CEOs in the world, women and men combined. Her genius idea was to separate the company into two business groups, each with its own specific focus. Among other things, she is responsible for the Zen CPU architecture.
Why is she a business inspiration?
Apart from having established herself as a woman in a predominantly male business, she's been a visionary in managing a company that recorded $9.76 billion in revenue by 2020. The risks she took when she arrived have put AMD back in the computer component race. For me, she is an inspiration both as a corporate manager and as a business leader. She exemplifies the role of the CEO in terms of decision making and strategic choices, such as restructuring.
4 – Max Verstappen
I couldn't compile this list without including a sports personality. And what a sports personality he is! Max Verstappen is part of the new generation of F1 drivers. At just 23 years of age, the third best driver of 2020 has led the Red Bull team to the second place in the constructor standings.
Why is he a business inspiration?
For me, Verstappen symbolises a new generation of people who are able to reach very high levels in their chosen area, at a very early stage of their lives. He represents the enthusiasm needed to create a new business, and the focus required to make it operate. Moreover, he has a clear goal of beating his main rival Lewis Hamilton this season. His pugnacity was on display during his last race. This is the kind of healthy competition we need to see in the business world.
5 – Pikachu
I know, Pikachu is a fictional character. However, I think it's important to include him on this list as we're celebrating Pokémon's 25th anniversary, which is quite a milestone. The Pokémon Company made $143 million in net profit last year, which is the company's second best result since its foundation in 1998.
Why is he a business inspiration?
Pikachu has become the symbol of a generation that has continued to embrace the concept of capturing and collecting monsters for 25 years. The company has adapted its business model over time and, and for this reason, Pokémon is seen as a form of cultural heritage. I think this is truly a great example of a successful brand.
Here's a little archive footage that reminds us that Pokémon was originally intended to be just a fad. I hope the child in the video has kept his card collection. A Charizard was worth 200 old Francs at the time. 25 years later, that card can be worth up to 350,000 dollars.
Whoever acts as your business inspiration, you'll notice that they're all linked by common values such as commitment, hard work, inquisitive personalities and the desire to prove that anything is possible. Ultimately, we all want our businesses to succeed and the people around us to feel professionally inspired by us. It's up to you to write your own story, so why not, in the process, try to become a source of motivation for someone else. Because, at the end of the day, even if you inspire just one person, then you've accomplished your mission.
---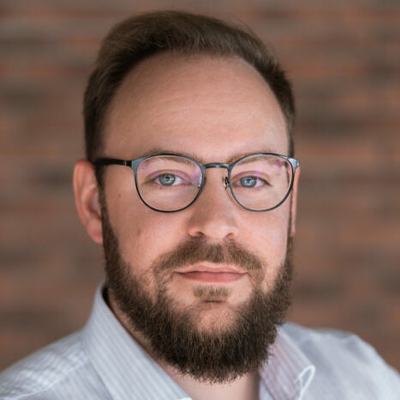 Vice-president at Audacia Group
François Bonvin's career has always been rich in experiences: as an entrepreneur developing the core software for Base7booking, as a mentor at the GENILEM Association and as Director of both Stickerkid and Stickeryeti brands. Thanks to his many achievements, coupled with his excellent interpersonal skills, he was vice-president of Audacia Group.
---