Digital marketing without third-party cookies? This idea has already given many advertisers sleepless nights. Next year it is set to become a reality – but there is no need to panic. The digital advertising market will change, but there are solutions : in this article, you will learn about action and solution-oriented approaches that will also allow the implementation of high-quality and effective campaigns in the future.
The digital advertising market is in a state of change. Various changes are taking place, the result of which is that the widely used third-party cookies will probably no longer be available from mid-2023.
This means that the use cases of digital marketing, which are based on third-party cookies, will no longer be possible in their current form or only to a limited extent. These include remarketing, interest targeting, or frequency capping. There is no way around looking for alternative solutions and approaches for a cookieless future.
A diversified cookieless future
The future without third-party cookies is complex :
– We will have less user and conversion data available. 
– We will need relevant, privacy-safe data that can be used without restrictions.
– We rely on new measurement and optimization metrics such as the time on the screen of display ads or the audibility of video ads.
Based on this, it is recommended to focus more on the use of privacy-safe data in the future and to make it available for automation through (proprietary) technology, to improve the quality of our campaigns at the inventory, targeting, and media buying levels.
Good inventory hygiene is the basis for successful campaigns
The advertising inventory – i.e., the selection of all placements or environments in which ads are published – is a central factor of every campaign. After all, this is precisely where the advertising brand is visible. For us, a high-quality inventory forms the basis for successful campaigns.
We are continuously monitoring the performance values on the purchased advertising inventory, e.g., via automated script. We are making exclusion lists of publisher domains that do not meet quality requirements concerning viewability or click-through rate. The same applies to ad collision, the multiple appearances of the same campaign on the same page at the same time.
Privacy-safe targeting options
First-party-data from premium-publishers
In the area of targeting, we see great potential in the increased use of publisher data. This is data that is collected directly by the operators of the websites on which the ads are played. In contrast to third-party data, this data is still available, of high quality, and shows outstanding performance values. For effective use of this data, close cooperation with the various publishing partners is indispensable from the agency's point of view.
Targeting based on hard data
Another promising alternative to third-party data in the area of targeting is using complex and exogenous data such as geo-location, time, or whether in combination with dynamic ad playout. Emotional messages gain significant relevance through location- or time-dependent playouts and are thus able to deliver better results. Concepts and infrastructures developed for maximum automated campaign delivery help to place the best-performing message in the right place at the right time.
Attention-driven media buying
The third aspect focuses on the increased use of newly measurable metrics to optimize media buying even more specifically to achieve attention. Metrics such as insertion duration, audibility, or ad position provide information about how high-quality an insertion is – and thus about how high its probability is of generating attention. Strong positive correlations can be measured between the average duration of an ad and the increase in awareness and consideration, two crucial steps in the user journey.
Market research – the perfect companion
To complement inventory hygiene, targeting, and media buying initiatives in a cookieless future, we recommend accompanying campaigns with digital market research whenever possible to validate relevant business objectives. In addition, you can analyze the brand's Google search volume to gather additional signals, such as the number of people who recognize a brand or product without further reference.
The combination is the key to success in a cookieless future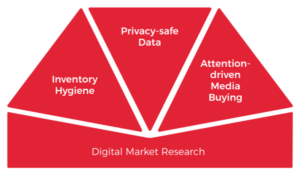 All the approaches presented in this article are based on privacy-safe data and therefore do not require third-party cookies. Suppose a campaign is placed on high-quality inventory, targeted based on publisher data, or played out dynamically using complex data. In that case, it will continue to achieve excellent results in the future and the absence of third-party cookies, especially when it is optimized for attention metrics at the same time. We are convinced that the positive results will remain visible and measurable through accompanying digital market research.
Would you like to learn more about this topic? In the online course "Data Privacy in Marketing – digital communication in the post-cookie era," you will find the right solution for your company.
Damian Chandler, Head of Programmatic Advertising
---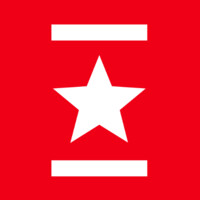 Founded in 2009, Webrepublic is the leading digital marketing agency in Switzerland. More than 200 employees design, implement, and optimize campaigns from a single source everyday. To translate marketing innovation into business value for customers, they always think creation, media, and technology together.
---