Could you introduce yourself in a few words?
My name is François Bonvin, I am 33 years old and I have been director of Stickerkid and Stickeryeti since November 2019.
Could you sum up your career so far?
I started with an apprenticeship in retail. Then, I was able to get a scholarship to study at the Ecole Hôtelière of Lausanne where we launched our first start-up "Base7booking" with, among others, Victor Lequet and Andrew Zappella (respectively Head of Ventures and CTO at Audacia Group). After four years of activity and a move to Germany, the platform was acquired by Trivago.
Coming back to Switzerland, I started coaching through the GENILEM association which supports innovation within companies in the cantons of Vaud and Geneva. There, I met Alexandre Bonvin (CEO of Audacia Group) who told me about his holding company project, which I joined in 2019 to take over the management of Stickerkid and Stickeryeti.
Why did you choose the vocation of entrepreneurship?
I didn't really choose it, I seized it rather out of opportunism. During our internship at the Ecole Hôtelière, Victor Lequet and I realized that the management software for hotels was poorly developed and there was an opportunity to launch a project in this sector. This is why we developed Base7booking later on.
In your opinion, what makes a good corporate director?
The first aspect concerns the analytical field, that means understanding data, analyzing it and making decisions based on it. The human aspect is also an important element which I have realized in the last few years. Now, I think I have the ability to understand people and to showcase them. In my opinion, this sensitivity to the human aspect, coupled with curiosity and the desire to learn, contribute to the strength of a good CEO.
Why did you look into the digital field?
Since I was a child, I have been passionate about the digital world, computers and video games. I became familiar with the electronics world at a very early age and this undoubtedly pushed me to get into the digital area rather than another.
Moreover, even if during my apprenticeship I sold snowboards and bicycles, I noticed that my boss at the time was already switching to online commerce. Then, I deduced that the world we were heading into was going to become more and more digital.
Why did you take over Stickerkid and Stickeryeti?
Above all, I chose to work with Alexandre Bonvin, with whom I share the same vision and ambition, rather than the company I was going to work for. I just heard that they were looking for someone to take over the management of these companies and that tempted me directly. At that time, I had always been an entrepreneur or a manager but never been at the head of a company, so it was a good opportunity for me to see what I was really worth.
How did this transition take place?
Beforehand, I had to learn and familiarize myself with the company's environment. When I took over the management of Stickerkid and Stickeryeti, I noticed that there were a lot of changes to make in the organization. The transition was quite abrupt because, in addition, the premises moved from Nyon to Sion. I took control of the companies in a very short period of time. It's true that restructuring is never easy but, looking back, I'm very satisfied with the result.
What are the future objectives for Stickerkid and Stickeryeti?
The main goal for both brands is to provide a unique and innovative online experience for users. In addition, new websites and order processing systems developed in-house will be launched. In the long term, for Stickeryeti, we'll have to maintain the smooth running of the business and to offer new products. For Stickerkid, on the other hand, it will be necessary to seek other types of audience.
How important is it for these companies to be regrouped under Audacia's umbrella?
First of all, there is a real talent pool that is accessible and with which we can work constantly. I can also share my experiences with the different CEOs of the company and not have the head to the grindstone. Audacia Group also allows us to benefit from a corporate structure that brings together essential organizational aspects such as fiduciary, accounting and finance.
Why did you take on the role of "entrepreneurial coach" at GENILEM?
After the takeover of Base7booking by Trivago, I travelled around the world and realized that many people needed support, especially organizational, when starting their business. So, I started, independently, to do consulting for a few start-ups and then, GENILEM contacted me to join their team. As the association was already a leader in the area, particularly in the Geneva region, I agreed to join them.
After the success of Base7booking, I told myself that it was time to give back what I had received and to share my knowledge and experiences with other people willing to create innovative companies. In fact, it was at GENILEM that I realized the importance of the human perspective within the entrepreneurial world.
---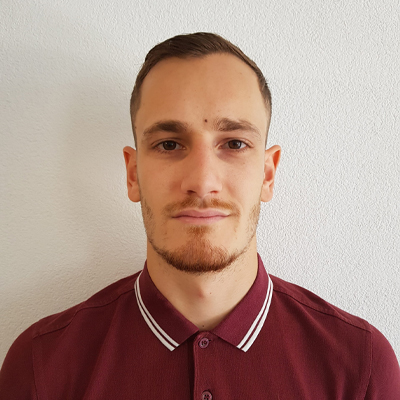 Content Manager & Creator at Audacia Group
I did my Bachelor and Master degrees in Linguistics and Communication in Switzerland. After several experiences as a redactor, freelance journalist and web journalist, I'm now working at Audacia Group where I'm creating and managing textual and written content.
---