Could you introduce yourself in a few words?
My name is Anne Thomas, I'm 31 years old and I'm the resident Marketing and Communications Manager at Audacia Group, a company which I've been working for since January 2020.
Could you sum up your career so far?
After a university exchange stay in Sweden, it was clear to me that my career would be internationally focused. My work experience began in the web department of the WHO's European office in Copenhagen. After my Master's degree in Marketing and International Communications, I moved to Germany to join Trivago as a B2B Marketing and Communications Manager covering the French-speaking markets. Then, I moved to a more global position, where I was developing the B2B Content Marketing and Social Media strategy. While there, I met François Bonvin, Andrew Zappella and Victor Lequet, the co-founders of the start-up Base7booking which was acquired by Trivago in 2015, and who are all working at Audacia Group today.
Thanks to one of life's many surprises, I followed François Bonvin to Switzerland, where I worked for a few different agencies, mainly on Communications, Events and Digital Marketing. After the merger between Alexandre Bonvin and François Bonvin, I was offered the opportunity to take over the Marketing Manager position for Stickerkid and Stickeryeti, which were both acquired by Audacia Group. As the holding company grew, the position of Marketing and Communications Manager for the group was created and subsequently offered to me.
Why did you choose to work in Marketing and Communications?
Initially, I liked Economics and Business and I wanted to work in Project Management in the long term. But then, Marketing, Communications and Creation started to really spark my interest, more so than fields such as Finance and Accounting. That's why I ended up doing a Master's degree in Marketing and International Communications.
What is your role at Audacia Group?
As a Marketing and Communications Manager, I'm in charge of building a team that can support the development of all the entities acquired by the group. The department's mission is to provide and deploy marketing and communication resources quickly and efficiently to the various companies in the group, in order to help them achieve their financial objectives. I'm also in charge of developing Audacia Group's brand exposure among our target audiences, which are mainly young talents, start-ups, entrepreneurs and investors.
In your opinion, what makes a good CMO?
First of all, you need to have a good general knowledge of Marketing and Communications in order to be able to coordinate all activities. Due to my years of experience in different corporate environments, I have acquired a whole range of skills that have given me a great overview of the important areas that make up the Marketing and Communications department. You will also need some managerial skills, to ensure proper employee integration, collaboration, motivation and progression. Lastly, you should always surround yourself with people who are better than you and who are experts in their own field.
What difference does it make when you're leading a department in a holding company, rather than in a 'stand alone' company?
I think it adds complexity when you have entities who operate in different business sectors, with different target audiences, markets and activities, all under one roof. You have to know how to adapt and juggle between sectors, while still applying the same logic to things. This means that some of our major marketing and communications principles and methods are relatively universal, and are maintained from one company to another, while on the other hand, we're able to test different strategies and activities in the different companies, to see if there is potential. It's a great business playground.
How are the various areas of Marketing and Communications coordinated?
We facilitate coordination by centralising the Marketing departments of each entity within Audacia Group's overarching Marketing and Communications department. As a result, the Marketing Managers of each entity can be in direct contact with Designers, Social Media Managers and Content Creators. The aim is to consolidate all the knowledge acquired within each entity, in order to strengthen the synergies between Audacia Group and its e-commerce businesses. Sharing experience, knowhow and resources is one of the core strengths of our group.
What are the future objectives for Audacia Group in terms of Marketing and Communications?
The current objective is purely organisational, as we're working on the creation and structure of the team. Beyond that, we'll work on developing Audacia as a strong brand in Switzerland and positioning the company as a centre of competence for Digital Marketing and Technology. Through this, we aim to attract new talent to the group. The expertise and support from the Marketing and Communications department towards the various entities in the group, should also contribute to the growth and financial objectives of Audacia Group for the year 2021.
Why is Digital Marketing one of the main components for a business like Audacia Group?
The entities that make up Audacia Group are predominantly online businesses. Within the company, we fully embrace a data-driven and digital vision and approach. We use key data collection tools and are very focused on online performance marketing. Unlike traditional communication strategies, such as print and display, digital marketing is important to us because we aim for conversions, thereby reducing the number of interactions and clicks performed by a potential customer before purchasing a product. We also seek to attract online customers through digital generation.
Will it make the coordination of marketing and communication activities more complex if Audacia Group acquires more businesses?
As long as we have a well-defined structure and work organisation, it will be easier to integrate a newly acquired company into this framework. The idea is to set up all these processes now, in order to make the integration of new entities as smooth and suitable as possible. This will be our main challenge for 2021. When a new company is acquired, we first have to carry out an audit, as these companies often don't have their own Marketing and Communications department as such. Following this, we can identify the resources that Audacia Group can bring to the newly integrated company, which will serve as contact points between the two parties. Freed from the marketing and communications tasks they tended to manage before, CEOs can therefore fully concentrate on improving and restructuring their business. In a way, you could say that Audacia Group seeks to take over SMEs, in order to transform them into start-ups. In other words, our aim is to re-energize already well established companies, by adding a breath of fresh air and innovation to their existing structure.
---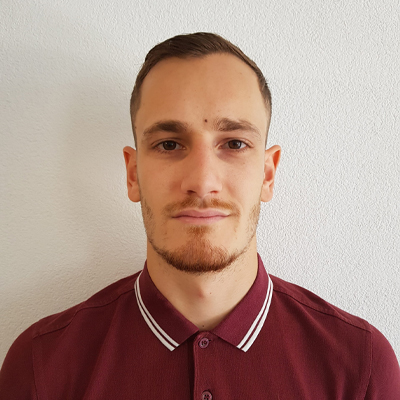 Content Manager & Creator at Audacia Group
I did my Bachelor and Master degrees in Linguistics and Communication in Switzerland. After several experiences as a redactor, freelance journalist and web journalist, I'm now working at Audacia Group where I'm creating and managing textual and written content.
---